It is great to take part in wonderful giveaways from fellow bloggers. Casey, from A Couch with a View, tried out our Pink Crochet Hat with a Pink Daisy. Here are a few snipets of what she had to say...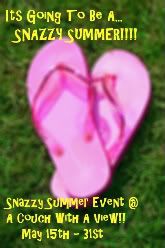 "Simply FaBOWlous offers up some of the most posh, prissy, girly and adorable items for little girls"
"Wearing her Simply FaBOWlous hat, she got soooo many comments while we were out and about""There's so many choices at Simply FaBOWlous for great ways to remedy that... adorable headbands, super cute clips... its hard to resist!!"
To check out her full review, go to
A Couch with a View
blog. They are providing a great opportunity to win one of our adorable hats.
Start shopping now for your "
most posh, prissy, girly adorable items
" by going directly to our website at
www.faBOWlous.com