Annie from Smile Box Reviews, where everything is Mom Tested and Baby Girl Approved, wrote a sweet note about Simply faBOWlous®!



"OH MY GOSH - I think I found my new favorite 'Hair Candy' & more store for little miss Savanah...Simply faBOWlous®."

"And let me tell you, EVERYTHING is faBOWlous for sure. I have had the opportunity to receive 4 items from faBOWlous® to enjoy & review, and every single item is gorgeous & beautiful!"

"faBOWlous® has amazing customer service, and I love talking with them. Kudos to the entire company."

"I really wish I would have found them BEFORE I had Savanah - she would have been loaded with 'Hair Candy'."



"Simply faBOWlous® gets smile box approved. I honestly do not have any complaints or suggestions for improvement for this company (and I am super picky - so that says A LOT)!!!"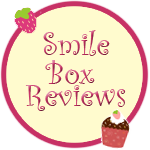 Go to
Smile Box Reviews
where one lucky reader will win their choice of any item from
Simply faBOWlous® WEB SALE
page. There are so many to choose from!!!!