Below is the response from MommyPR upon recieving our faBOWlous® products.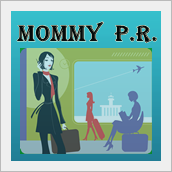 "
There were squeals of delight when Rylee discovered a 4.5″ Grosgrain Bow in red and one in white inside the package. These bows are very easy to clip into place. The bow stayed in place all day and never once slid out of her hair!"
"
We also received a Marabou Hair Clip in red and this was actually a big hit with both girls! My 9 year old loved it and quickly figured out that it could be used in the hair or as an accessory on her dress or even purse! This hair clip will definitely be on their Christmas list this year (see photo down below)!"
"
We also received a Hawaiian Sequin Flower Clip in black that looked absolutely adorable with my 9 year olds black and white dress she wore on Sunday!
"
The last item we received was the
Arch Glitzy Headband
in Red. "
The headband stays in place and my daughter told me that it is very comfortable to wear. Can a girl ever have too many headbands or hair bows?"
Did you like the items in this review? Now is your chance to enter to win all of these products through
MommyPR
. Visit her blog for multiple opportunities to win.